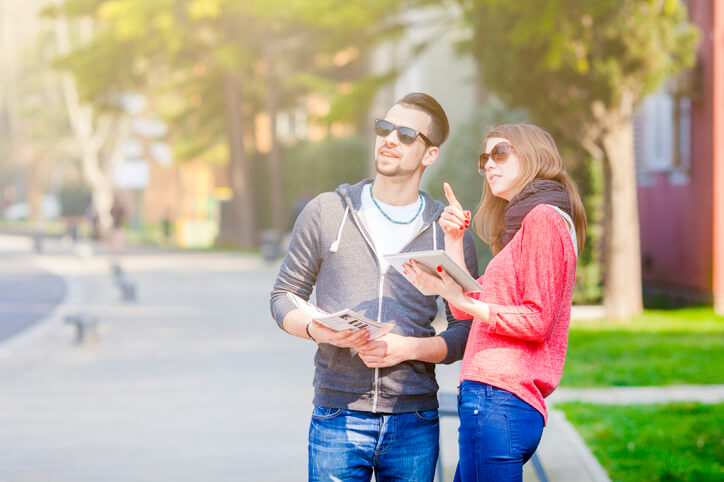 Posted on Aug 22nd, 2019 in Your Apartment, How To's, Gainesville Apartments, Gainesville, College Students
Gainesville is a popular city for renting because, by and large, apartments here are affordable, commutable, and most of all, available. But having too many choices can also cause consternation for apartment hunters who are still making up their minds about where to live. If an apartment appeals to you in glossy photos or a staged tour, how do you know it'll also provide long-term comfort and convenience? Following these three easy steps from Contemporary Management Concepts, LLLP will help you find the perfect apartment in Gainesville by ignoring superficial traits and focusing on the core characteristics your next apartment should have to meet your needs.
1. Decide Which Type Of Housing Fits Your Needs
Not all apartments are intended to serve the same types of people. Based on your demographics, interests, and lifestyle, there's a type of rental housing that's preferable to you. The trick is knowing what it is before you start apartment hunting.
Student Housing
In general, student housing in Gainesville caters to college students who attend the University of Florida or Santa Fe Community College. Most have furnished rooms, individual contracts (bedrooms rented separately), pre-installed Internet and utilities, community amenities, and roommate-matching services. The floor plans often include up to four or more bedrooms, and the bedrooms are private and keyed. But don't let the name fool you — student apartments also work for non-students who want convenience or a location near campus.
Professional Apartments
Busy professionals need a place to come home to and relax after a long day of work. Professional apartments are luxury units that offer comfort and privacy in posh layouts with high-end furnishings, on-site amenities such as gyms and swimming pools, and convenient locations near shopping centers and restaurants, such as those in Celebration Pointe or Butler Plaza. Professional units also may or may not be furnished, so consider whether you want to decorate or move right in; some professionals who relocate to Gainesville opt for furnished apartments temporarily and then move to family homes.
Family Homes
Not all families can afford a mortgage or want to deal with other headaches of owning a home. For these folks, family-friendly rental homes offer an affordable alternative to homeownership. Family rental housing includes spacious homes that feature living spaces and yards where parents and kids can spend time together inside or outside. These units are also located in neighborhoods near elementary, middle, and high schools for easy commuting.
2. Choose A Neighborhood That Matches Your Lifestyle
Once you've chosen a type of apartment, it's time to pick the best neighborhood in Gainesville to rent in. What should you consider when choosing a neighborhood? Here are some things we recommend.
Natural Scenery
When you're not busy with other obligations, how do you spend free time? If you like exploring the natural beauty of North Central Florida but avoid venturing too far from home, then West Gainesville and Sorority Row are ideal for you. West Gainesville is home to Clear Lake Nature Park and Split Rock Conservation Area, while Sorority Row stretches across Depot Park, Bivens Arm Nature Park, and Sweetwater Wetlands Area. Renting in these areas means you can walk or bike to a nearby nature park in minutes.
Nightlife
There are many fun things to do in Gainesville at night, but most of the city's nightlife is concentrated in two neighborhoods: downtown and midtown. Most apartments in downtown and midtown are intended for students and professionals who like to walk to restaurants, bars, coffee shops, stores, and events. Also, whether you're in a romantic relationship or between one, there's no shortage of date ideas in these neighborhoods, from live music at the High Dive to coffee and dessert at Volta Coffee, Tea & Chocolate.
Schools
If you're a parent, one way to simplify your life is by living closer to your child's school, especially if you work and drop them off in the mornings. Archer Road is a family-friendly neighborhood that encapsulates Kimball Wiles Elementary School and Kanapaha Middle School. It's also home to Butler Plaza, where you can buy school clothes and supplies, as well as groceries. Or if you prefer a quieter neighborhood, Northwest Gainesville has family homes for rent in residential settings and is home to CW Norton Elementary School, Glen Springs Elementary School, and Buchholz High School.
3. Figure Out How Much Can You Afford Each Month
By this point, you deserve a pat on the back. But the last step to finding the best Gainesville apartment is figuring out how much can you afford to pay in monthly installments. Here are a few factors to consider when calculating a budget.
Housing Costs Vs. Income
While the cost of rental housing in Gainesville is less than in some larger Florida cities, it's still a good idea not to overextend yourself financially. Most budgeting experts recommend spending no more than 30 percent of income on your housing. If you're employed, an apartment should cost roughly one-third or less of your monthly paycheck. For non-working students, calculating budgets becomes trickier: the amount may be based on student loans, other financial aid, or the help of a parent who co-signs the rental agreement.
Costs & Savings From Roommates
Many renters live with roommates. Shared living can save everyone money by dividing the costs of groceries, cleaning products, and other supplies. However, when one roommate pays late or moves out early, the others could incur fines. This is particularly a consideration in non-student apartments, where tenants sign one contract. In student housing, roommates each sign their own contract, so no one is responsible for another person's payments. If you're living with roommates, make sure they are dependable or else choose to rent by the bed.
Look At The Big Picture
Choosing the right type and location of housing isn't just about comfort and convenience; it can also save you money. Most professional apartment communities have high-end fitness centers, for example, which eliminate the need for gym memberships. Most family homes are walking distance to local K-12 schools, which reduces transportation costs, and student apartments include full kitchens and in-unit laundry, so residents can cook and wash clothes at home.
Congratulations on getting through the three steps to finding your next apartment. As a final step, get in touch with Contemporary Management Concepts, LLLP and relate your preferences (apartment type, location, and budget) to our friendly leasing staff who'll offer you ideas for where to live.