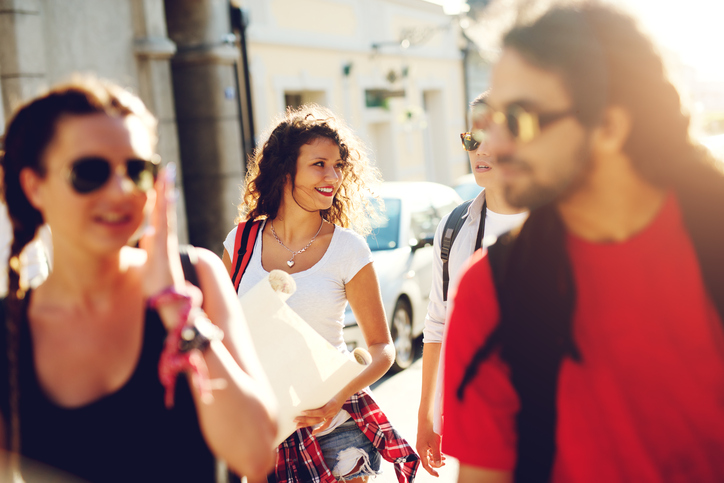 Posted on May 22nd, 2018 in Gainesville Apartments, Gainesville, College Students
Gainesville is flourishing. Between professionals settling into local neighborhoods and students moving to off-campus apartments near UF, the city is a vibrant hub of activity. Although it usually doesn't take long for newcomers to feel welcome in the city, it's always useful to learn about local destinations and rental housing before making the move.
Types of Rental Housing in Gainesville
From family homes to student apartments, Gainesville is replete with rental options for new arrivals. Depending on your circumstances, one type of housing may be the most appropriate for you, which is why reviewing the traits of each category before signing a lease is a good idea.
Student Apartments
This is the most popular form of off-campus Gainesville student housing. The advantages of student apartments are their rent prices, floor plans, and locations. Studio or one-bedroom apartments with affordable rents are available for students who like to live alone, while larger units with two to five bedrooms, private bathrooms and spacious living rooms and kitchens are ideal for roommates who wish to share the cost of rent. Many student apartment communities are located near the UF campus — sometimes within walking distance — to allow for easy commutes to class.
Apartments
Families and professionals may be interested in apartments in Gainesville father away from campus. Throughout the city, there's a variety of apartment types available, from luxury rentals with high-end finishes and on-site amenities to urban lofts situated in the midst of a cityscape of shops and restaurants. As vast as the apartment options available is the span of rent prices, so most tenants can easily find apartments within their budgets.
Other Rental Housing
Gainesville apartments aren't the only form of rental housing newcomers should consider. In fact, there is an array of other rental options. One of them is townhouses, which are multilevel residences that resemble the floor plans of apartments but with more interior space. Another is rental homes, which allow residents to live a suburban lifestyle in family neighborhoods around the city, where yards and tall trees abound.
Must-See Places
Once you've settled into rental housing, and your belongings have been moved in by yourself or a local moving company, the next phase in your relocation to Gainesville is exposure to the city's must-see sites. You can consult an Alachua County guide to find regional attractions. Here are some places to start:
Ben Hill Griffin Stadium
As a UF student, a visit to Ben Hill Griffin Stadium is almost obligatory, while Gator graduates and other fans may pay occasional visits to "The Swamp." With an 88,548-person capacity, the football stadium is one of the nation's premier college sports venues and an impressive sight even for Gainesville residents who aren't sports enthusiasts. For Gators football tickets, visit the UF Ticket Office.
Devil's Millhopper Geological State Park
Among the natural sceneries of foliage that envelop the landscape of Gainesville, Devil's Millhopper Geological State Park is a phenomenon worth visiting. Walk along a boardwalk down a 120-foot deep sinkhole to encounter a lush rainforest that thrives year-round in the region's warm climate.
Downtown Gainesville
Comprised of boutique shops, restaurants, and local landmarks, Downtown Gainesville is an area that all new residents should make time to explore. Its highlights include Bo Diddley Plaza, which hosts the weekly Union Street Farmers Market and other events, and the Hippodrome State Theatre, a venue for cinema and live performances.
Apartments in Gainesville, FL
Contemporary Management Concepts, LLLP is a leading provider of student apartments for rent Gainesville newcomers and longtime residents choose. Students looking for off-campus housing appreciate our properties near UF, while families and professionals usually prefer our selection of townhouses, homes, and other rental properties in other Gainesville neighborhoods. All properties managed by Contemporary Management Concepts, LLLP are easily browsable with our website's search tools, and our team of rental experts is available to answer questions directly. Contact us for more information about our properties and services!