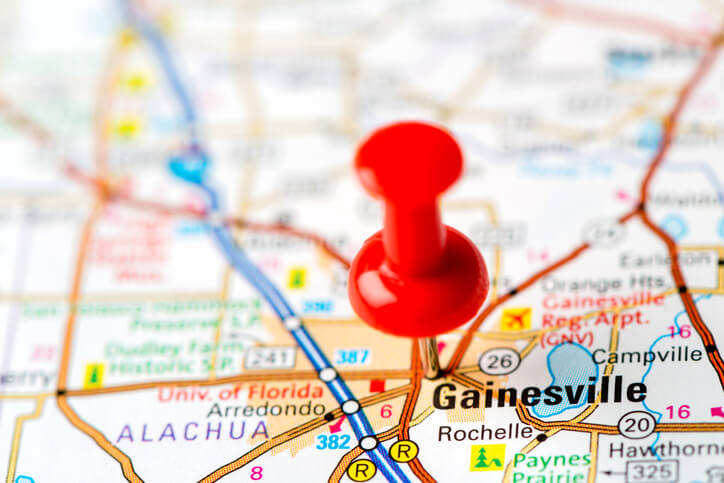 Posted on Dec 6th, 2018 in Gainesville Apartments, Gainesville, College Students
More people than ever are on the lookout for apartments for rent in Gainesville. Yet, these new residents are likewise eager to learn about what their new city offers. From neighborhoods suitable for renters to the best means of travel around town, here are essential things to know as a renter in Gainesville.
Where Are Best Neighborhoods For Renters?
Learning about the city's neighborhoods is one of the most useful things new residents can do. Over time, you'll no doubt explore most of the attributes of each neighborhood, from its apartments and stores to its restaurants and landmarks. In the meantime, here are some geographical points to reference to help you get acclimated to the city.
Downtown Gainesville
The boundaries for the downtown area include Northwest 6th Street to the west and Northeast 15th Street to the east; West University Avenue runs through the center of the neighborhood. Apartments in downtown Gainesville are sought after primary by those who wish to immerse themselves in the cultural hub of the city. With coffee shops, boutique stores, and quaint restaurants, the downtown is an urban center with small-town charm. There are also several rental communities in the area, one of the most popular being LynCourt Square.
Midtown
Midtown borders Downtown Gainesville to the east and then runs westward, juxtaposed by the University of Florida campus, all the way to Northwest 34th Street. Midtown features numerous student apartments for rent. Lyons Corner places students close to UF as well as several low-priced eateries. Plenty of non-students also live in Midtown. The neighborhood encircles Loblolly Woods Nature Park, which is a popular area for walks, family activities, and wildlife watching.
Sorority Row
Sorority Row's northern border is Southwest 5th Avenue, which serves as the southern border for Downtown and part of Midtown. The rest of Sorority Row runs southward, mostly along Southwest 13th Street. Student housing in the northern portion of Sorority Row, such as Campus View Place, is sought after because UF's main campus is a few minutes' walk due west. Many families and professionals choose to rent in the southern section of the neighborhood, which is a scenic area featuring Sweetwater Preserve and Bivens Arm Nature Park.
Lifestyle Tips From The Locals
As you deliberate on which apartments in Gainesville are right for you, you can also consider these tips from locals. Having inside knowledge about dining hot-spots or traffic patterns can only have a positive effect on your housing search.
Commuting
Many renters who commute to work or class want to live near Archer Road. Even though it's the main transitway west-to-east, during morning and evening rush hours, the road still has manageable levels of traffic. Archer Road is also the access point to the more than 150 stores that make up Butler Enterprises, a town center comprised of three segments. On days when the Gators football team plays at Ben Hill Griffin Stadium, the temporary lane-closures on Archer Road are something to be aware of.
Dining Hot-Spots
Gainesville has lots of restaurants. However, the best places to dine out at depends on the type of experience you want. For a family atmosphere, try Oggi Italian, which offers high-end Italian cuisine. Students who live in off campus apartments near UF are seen regularly at The Spot, a Mediterranean restaurant with reasonable prices. Downtown also has a collection of popular eateries, including The Top, an American-style bar and grill.
Where To Find Apartments For Rent
Contemporary Management Concepts, LLLP connects prospective renters with ideal apartments, homes, lofts, and townhomes for rent. Whether you have a particular neighborhood in mind or are open to suggestions, we can accommodate you. We provide student housing near the UF campus, family properties in residential areas, and professional units near commercial shopping districts. Feel free to explore our website's property listings. Or contact us to speak with a member of our leasing team!