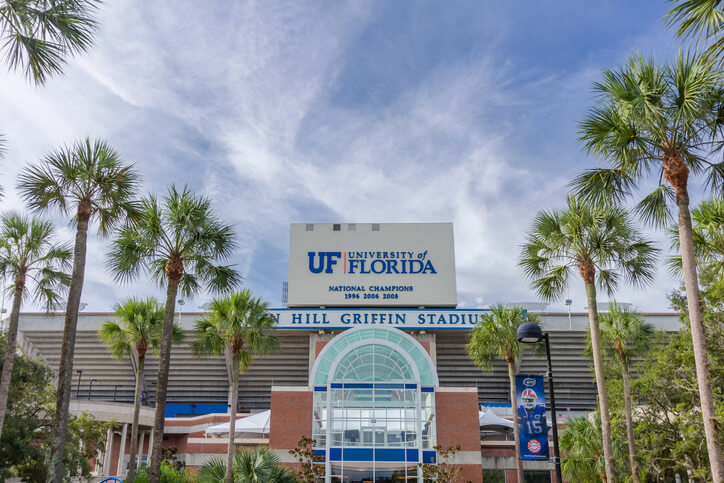 Posted on Jan 11th, 2019 in Gainesville Apartments, Gainesville, College Students
Whether you live in dorms on campus or in off campus apartments near UF, Gainesville's best attractions are never too far away — the only trick is knowing where to look for them. But with this student's guide to Gainesville, courtesy of Contemporary Management Concepts, LLLP, you can discover more of the wonders that Alachua County's largest city has to offer.
Florida Gators Culture
Enthusiasm for UF runs throughout the city, as shown by people who wear Florida Gators apparel or hang blue and orange banners on the walls of their Gainesville apartments. But when students are intently focused on their studies, they sometimes develop tunnel vision and lose sight of the fact that they are parts of a large and supportive UF community. One way to reconnect with that community is by attending local events.
Many UF-themed events happen throughout Gainesville, from Gators football games to off campus fundraisers held by UF fraternity and sorority houses. By participating in these types of events when they occur, students can stay plugged-in to their community.
A City Embracing Artistry
Students don't have to walk too far from their apartments in Gainesville to see signs of the artistic presence in the city, whether it's in the form of a gallery, concert venue, or mural. Plenty of community events showing support for the arts take place in Gainesville, as well. And most of these events, which include shows and performances, students can attend for little or no money. So from art walks downtown to live musical performances on outdoor stages, Gainesville is home to a variety of creative events where students can spend their leisure time.
Shopping Areas Galore
When you browse student apartments for rent, you're probably concerned with the immediate details — such as the style of the floor plan, the monthly rent costs, and which amenities are available — but also with the location of the housing community. Most students who live off campus, for example, desire for their housing to be close to at least a few stores and restaurants, as well as a movie theater or some type of entertainment venue.
What's nice about Gainesville is that for a city of a modest size, it has several major shopping centers (including The Neighborhoods at Butler with over 150 retailers), as well as an indoor mall and many small-business districts. Having shopping areas so readily available is ideal for anyone on a tight budget, as well as for people who are looking for class supplies or goods for their apartments.
Transportation Made Easy
The UF campus takes up a large geographical area in Gainesville. So while the city's student housing communities are located throughout the city, most are situated near the border of the university and the city. For this reason, students can usually walk or ride bikes from their UF student apartments to campus. Gainesville also makes life easier for these commuters with its extensive networks of sidewalks and bike lanes.
Students who ride public transportation also have it easy in Gainesville, where they can easily hop onto several university-owned and public buses to travel around campus and to off campus destinations. For those who drive, meanwhile, Gainesville's well-maintained road system — which is aligned in a grid and is straightforward to navigate — is appreciated. The city's roads also have multiple access points to Interstate 75 (I-75).
Finding Off Campus Housing Near UF
Because Gainesville offers students so much, it's easy to see why many people who attend UF choose to live off campus in the city. At Contemporary Management Concepts, LLLP, we make it easy for students to find their ideal off campus housing. Our company is Gainesville's premier manager of student apartments and homes for rent. We manage apartments located near UF as well as in Gainesvilles other neighborhoods. And depending on how many bedrooms your apartment should have, where in the city you'd like to live, and what's your monthly budget for rent, we'll help you find the best apartment for your lifestyle. To get started, contact us today!