Trick-or-Treat, Costume & Candy Safety Tips
While kids are enjoying the festivities of Halloween, parents often worry over the safety of their children. The uncertainty and stress that the holiday brings can be scarier than Halloween itself! As the spooky day gets closer, it is important to be take Halloween precautions seriously. Here are our top trick-or-treat, costume and candy safety tips to keep your little goblins safe this year.
Halloween Safety Tips
Trick-or-Treating
Children who are younger than 12 should be accompanied by an adult at all times throughout the night. If children are unaccompanied, it's important that they stay in well-lit areas that are familiar to them or go trick-or-treating in a group.
Set a meet-up location and or time to return home, ahead of time, in case your group gets separated or the children go trick-or-treating alone,.
Always walk on sidewalks or paths to avoid oncoming traffic. It can be difficult for drivers to see pedestrians and children at night, especially when they are dressed in dark clothing or costumes.
Teach your children never to enter a stranger's home or car and only to accept candy from the doorway or outside homes.
While walking, remember to put down your electronic devices, keep your head up, and never run across the street.
Giving your trick-or-treaters flashlights or glow sticks can be a fun and safe way of making them easier to spot in a moving vehicle.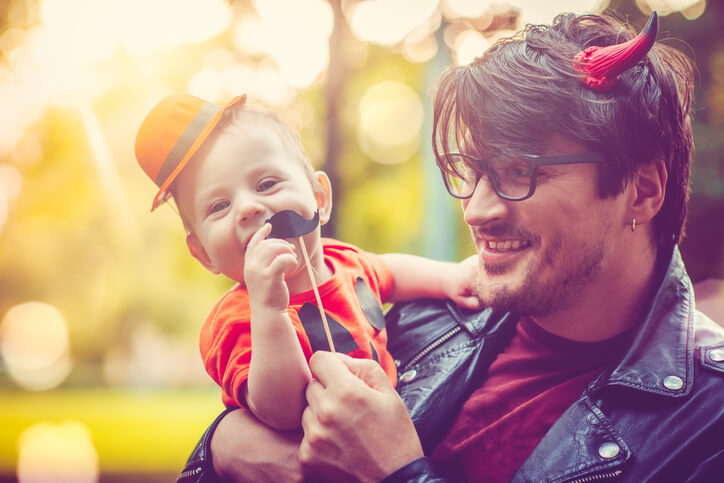 Costumes
Adding reflective tape to children's costumes so that they can be easily spotted is an extra safety tip to keep kids safe from drivers.
Whenever possible, face paint or makeup may be safer than using masks because it is less likely to impair their vision.
When buying face paint or makeup, be sure to check that it is nontoxic and remove the makeup before the child goes to bed to prevent any irritation or reactions.
Make sure that costumes do not drag on the ground or allow the possibility to be tripped over. This way, your child can run around and have fun without the stress of falling.
Check labels and make sure your costumes are made of flame retardant or fireproof fabrics.
Candy
Be sure to inspect the candy that has been collected for anything that may look old or expired.
Throw away any candy that is opened or tampered with. Look for any discoloration, tiny pinholes or tears in wrappers.
If your child has a food allergy, be sure to research what your child can and cannot eat beforehand and throw away any candy that could lead to an allergic reaction.