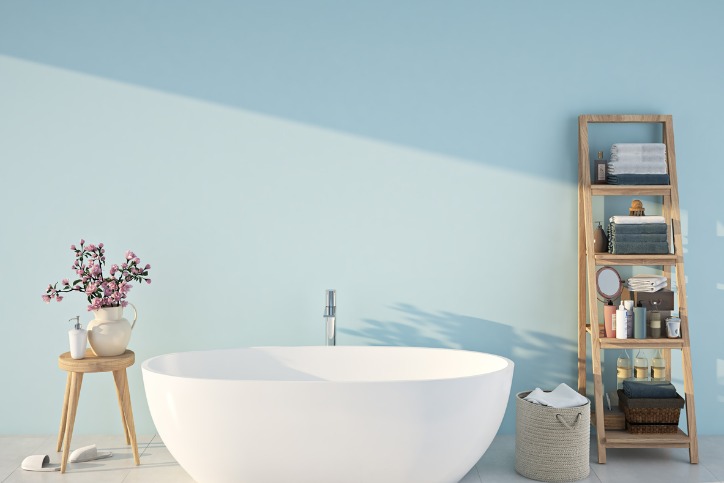 Soothing Bathroom Paint Colors To Try In Your Florida Apartment
Your bathroom is a place to refresh and spend time alone, relaxing and recharging for much-needed self-care. It can be simple to transform your apartment's bathroom into a spa-like retreat with the correct color palette and a few bathroom accessories. Check out these color suggestions for your Florida apartment makeover. Look for colors with a soft, muted tone that make you feel at ease. Matte and eggshell finishes reflect less light and are excellent at creating a more relaxed feeling color. If you are unable to paint your walls, you can still transform your rental with colored contact paper, peel-and-stick wallpaper, or removable tiles. You can also add soothing colors to your bathroom with accents such as your shower curtain, plants, towels, and bathmat.
Searching for an apartment in Florida? Contact us today to schedule a tour of our apartments in Florida!
Light Blue
Light blue colors provide a calming tone to a room. They are also very easy to work with because they pair with all types of hardware, wood tones, and design styles. White accents and natural wood tones can provide a coastal feel, while brass hardware and warmer wood tones can create a modern farmhouse look.
Honest Blue by Sherwin Williams
Harbor Haze by Benjamin Moore
Cement Pots by Magnolia Paints
Sage Green
Sage green brings the feeling of being in nature to a room. Pair with medium to dark natural wood tones to further the natural feel, and add paints to create an exotic spa-like experience.
Early Riser by Magnolia Paints
Softened Green by Sherwin Williams
Urban Nature by Behr
Cool Toned Grays
Grays are easy to work with and have a naturally relaxing color. There are hundreds of gray tones, not all of which are ideal for a soothing bathroom. Choose light grays with a cool undertone, such as blues, greens, or light purples, when looking for grays.
Cobblestone Path by Benjamin Moore
Sterling by Benjamin Moore
Loft by Magnolia Paints
Warm Terracotta
Perfect your apartment's bathroom as a Mediterranean getaway with warm terracotta tiles and beautiful mosaics. Deep and muted orange terracotta tones can create this exotic beach vacation mood in your apartment.
Work Worn Wood by Magnolia Paints
Terracotta Clay by Behr
Moroccan Sky by Behr
All Neutrals
For a classic spa bathroom feel, create a bathroom of all neutral colors. Beige, white, brown, and wood tones provide a natural, clean feeling that can look straight out of a luxury hotel. If the room looks a little flat, try adding mixed textures or a few plants.
Castle Cream by Magnolia Paints
Swiss Coffee by Benjamin Moore
Nomadic Desert by Sherwin Williams