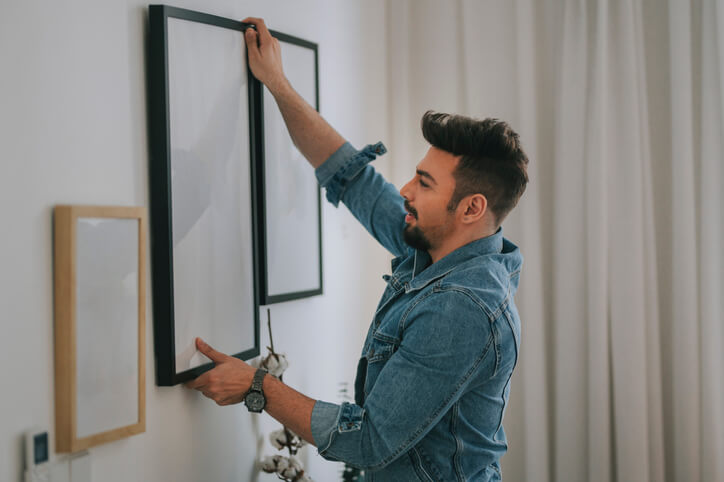 Posted on Nov 23rd, 2020 in Your Apartment, How To's
Plain, white walls can be the bane of a renter's existence. Though living in Gainesville apartments has numerous perks — including having access to dozens of on-site amenities and a central location close to everything — it also means renters have to get creative when covering all that white. If you think there is no effective way to personalize the walls in your student apartment or non-student apartment without the use of paint, we're about to make your day.
Before you pick up a paintbrush, consider the following renter-friendly temporary wall covering solutions to spruce up your living space while also avoiding the hassle of repainting walls before moving out or risking your security deposit.
Wall Decals
From fine art pieces and inspirational quotes to movie posters and minimalistic patterns, wall decals exist in a wide variety of colors, shapes, and sizes, making it easy for renters to boost their apartments' aesthetic qualities without the commitment of paint. We recommend applying wall decals carefully and slowly, especially if you're installing a large-size decal. Once the decal is on the wall, smooth out any air bubbles. If you're purchasing them online, make sure to compare the dimensions of your decal to the wall to avoid buying a poor-fitting design.
Temporary Wallpaper
For those living in rentals and looking for temporary fixes to plain, white walls, temporary wallpaper is an inexpensive and easy-to-use solution. As with wall decals, temporary wallpaper exists in a plethora of colors, tones, shapes, and sizes, so finding a style that suits your tastes or complements your furnishings is a breeze. This type of temporary wall covering works best on smooth surfaces. To apply, move slowly and avoid removing the backing all at once. Instead, take a gradual approach by working from the top of each strip and moving down as you go.
Removable Tile Backsplash
Temporary wall coverings aren't reserved just for surfaces in your living room, bedroom, or dining area. A removable tile backsplash can transform bathrooms and kitchens in need of some color, and they come in every color and design you can think of. Since renters can't replace these surfaces in their apartments, tile decals are optimal for temporary personalization. To use these, sticker every tile or leave some space between them to achieve the look you want and give your bathroom or kitchen area an aesthetic lift.
Original Art
Whether you're a budding artist dying to show off your original works or you simply want to celebrate the many local artists and artisans in Gainesville, original art is a great option when it comes to making your apartment feel more like home. For a DIY fix, simply grab a canvas, a few brushes, and some paint and let your mind run free, or stick to colors that match highlights of your interior décor. What's more, all you need to hang up your finished piece is a small nail and hammer, making it quick and straightforward to install and de-install thereafter.
Framed Photographs
Get a little old school with your blank walls with a photo collage, which can make a great piece of wall art all on its own. Consider printing photos of friends, family, pets, or scenery in black and white to match any interior vibe and frame each picture individually in matching frames or frames in multiple colors or finishes. Once framed, arrange the photographs in whatever order you please to create an art installation. Like original art pieces, framed pictures are a great impermanent way to make your apartment look vibrant.
Decorative Tapestries
A great alternative to paint and wallpaper is fabric. Decorative tapestries made from a wide range of different materials are often a popular choice among renters for decorating their walls due to the fabrics' reusability, intricate designs, and large sizes. These temporary wall coverings can add a bright splash of color, pattern, and texture to your space and take up quite a bit of real estate without requiring much installation effort or tools. An alternative to pre-made tapestries is plain fabric — buy fabric in a large enough size to cover your wall or in multiple pieces to combine and create a design of your own with fabric paints or embroidery!
As a renter, there are many ways to make your apartment your own without making permanent changes. And when you choose to make one of our Gainesville properties your home, it's easy to feel inspired. What are you waiting for? Contact us today to learn more about our properties.