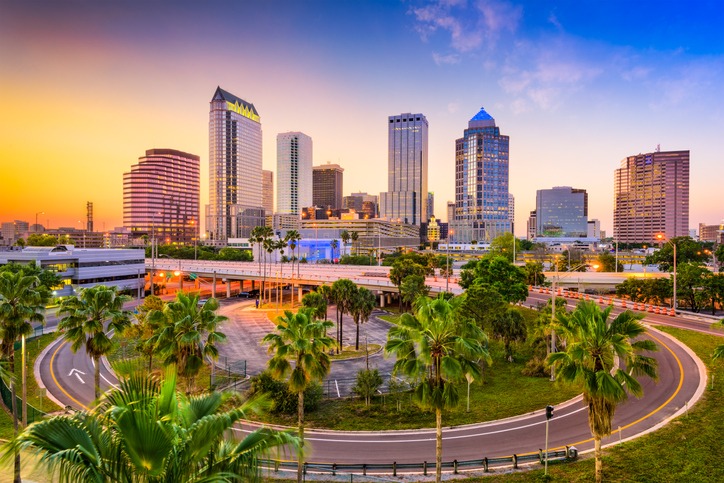 Posted on Apr 30th, 2021 in Tampa
Do you and your family love animals? Tampa is a haven for animal lovers being home to places like the Florida Aquarium, Tampa Electric's Manatee Viewing Center, Big Cat Rescue, or Lowry Park Zoo. Although Tampa might not be known for its beaches, you can still have some fun in the sun! Tampa has a growing food and live music scene and boat-friendly weather that has made life in Tampa so appealing! If you are planning on living or visiting Tampa, FL, here are some places that Contemporary Management Concepts, LLLP, recommends seeing.
Contact us today to learn more about attractions nearby our apartments in Tampa, FL!
Tampa Riverwalk
Tampa Riverwalk is a 2.6 mile-long trail that runs along the Hillsborough River in Tampa. It is the ideal place to walk, bike, or check out the Pirate Water Taxi to see all the sights Downtown Tampa has to offer. Enjoy public art on your stroll and see attractions like the Glazer Children's Museum. The nice weather is perfect for walking the trail and maybe catching a beautiful sunset!
Busch Gardens Tampa
Busch Gardens is a world-renowned African-themed adventure park. This family-friendly park is operated by SeaWorld Entertainment and is home to animal attractions, as well as safaris. Busch Gardens is actually older than the nearby Disney World, and it is cheaper. It features themed lands, such as the Edge of Africa, plus animal exhibits based on the Serengeti Plain and the Myombe Reserve.
Glazer Children's Museum
If you are in Tampa with kids 12 and younger, this is a good place to bring them! The Glazer Children's Museum gives kids an interactive experience so that they can learn using their imaginations! Here, kids can learn how to save money, slide down a fire pole, or try their hand at design and carpentry to fix a house. This museum is 53,000 square feet and is filled with permanent and temporary exhibits.
Tampa's Lowry Park Zoo
Similar to the Big Cat Rescue, Tampa's Lowry Park Zoo preserves, protects, and rehabilitates some of the world's most unusual creatures. It is home to over 1,300 different animals with a focus on endangered, threatened, and vulnerable species from around the world. This zoo also operates one of the world's foremost breeding programs to save these endangered species from extinction.
The Florida Aquarium
Located in Downtown Tampa, The Florida Aquarium is home to over 20,000 aquatic plants and animals from all over the world. Its many interactive exhibits allow visitors to learn about these animals and meet them face to face. Pet a bamboo shark or stingrays at a Stingray Beach and touch coral reefs housed in a large tank. For families visiting with kids, there is an outdoor water adventure zone for children of all ages, while the older adults can dive with sharks, swim with fishes, or take a Wild Dolphin Ecotour in Tampa Bay!
Hillsborough River State Park
Hillsborough River State Park is one of Florida's first state parks. Take a walk through the beautiful environment or take some time and go kayaking through the river. The park hosts seven miles of hiking trails and freshwater swimming pools that are open in the summer months. On the east side of the park, visitors can find Fort Foster State Historic Site, which is a reconstructed fort from the Second Seminole War.
The Straz Center For The Performing Arts
As one of the largest performing arts complexes in the Southeastern United States, the Straz Center for the Performing Arts provides artistic and musical events for the public. Per season, the center presents over 4,000 concerts, performances, and events from opera to Broadway shows. It also offers educational programs, workshops, and classes that focus on training educators, families, and adults in performing arts.
Tampa Electric Manatee Viewing Center
This special sanctuary provides manatees with a crucial environment for them to live and breed. The center features colorful displays to educate the public about the manatee and the habitat it lives in, as well as information about the power station and how it generates electricity for the community in a responsible way. There is also an award-winning butterfly garden that surrounds the center. Take a stroll along the center's tidal walk and gaze at the native and coastal plant life.