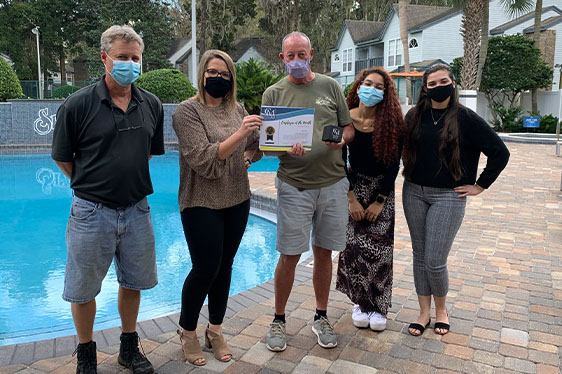 When Jamie started at Spyglass in a janitorial position, nobody expected how much of an essential part of the team he would soon become. Since day one, his constant enthusiasm and contagious energy have set the tone for both coworkers and residents alike. His positive energy is so notable that others throughout the company have likely heard praises, been told favorite stories, or even shown videos of him goofily dancing to 80s music while cleaning apartments.
Yet somehow, this is not the only remarkable characteristic of Jamie's — it is his constant and genuine care for the work he does at Spyglass and the people that surround him. He solves problems beyond what is expected of him, proactively addressing issues to help improve the property for those that call it home and finding ways to make his coworkers' jobs easier. Anytime he can, he happily lends time and energy to help the maintenance crew, freeing up their ability to work on larger improvement projects. He can be seen striking up conversations with residents or grabbing their trash and taking it to the compactor when requested. On coworkers' birthdays, or even just mundane days where he believes the team needs a morale boost, he goes above and beyond to make thoughtful and personalized gestures.
Spyglass is a property that prioritizes resident rapport and going the extra mile. In times of social distancing, it has become a mission to find new and creative ways to bridge that distance and continue 'building relationships' the way our community deserves. Jamie Allen has become essential to that mission, never ceasing in his goals of keeping Spyglass the friendly home we strive to create for our residents. Employees like Jamie are one in a million and we couldn't be luckier to have him as a part of our team.