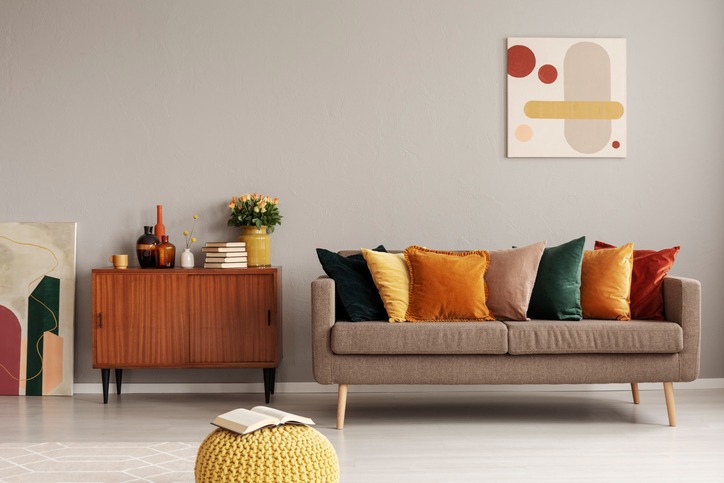 How To Add A Pop Of Color Without Paint
When renting a Florida apartment, you need to find ways to get creative in your home decor. Making your space your own is essential to making it feel like home. Plain walls and standard home finishing may not represent your style well. Try adding a few home decor items in your favorite color palette to personalize your apartment. No need to paint the walls and do a full makeover, small pops of color with items you love can add a lot to your space!
Searching for an apartment in Florida? Contact us today to schedule a tour of our apartments in Florida!
Throw Pillows & Blankets
One of the easiest and most affordable ways to add color and texture to your space is with throw pillows and blankets. They look excellent and are practical, making your sofa or bed more comfortable. The options are endless, and you can choose from hundreds of styles, sizes, colors, and textures to tie your space together.
Curtains
Another practical option for a pop of color is installing curtains. If you are unable to screw into the wall, heavy-duty adhesive hooks should be able to hold a curtain rod and lightweight fabric easily. Curtains can tie multiple rooms together and add dimension to a space. They can make an apartment look and feel homier and block out light while looking better than plastic blinds.
Bedding
Personalizing your bedroom is often the most fun because you do not have to worry about the opinions of roommates if you have them. Your bedding is typically the centerpiece of your bedroom and can be the foundation of the room's interior design. Choosing warm and relaxing colors in the bedroom can make the space feel cozier when ready for bed.
Plants
Plants, live or faux, are a simple, highly effective way to add a design element to your apartment. It adds natural tones of green and helps elevate the room design to look purposeful.
Wall Art
For rentals, wall art is an excellent way to add personality and color to your apartment without making a permanent change. Art can transform the look of a room and there are infinite possibilities. You can create your art and hang a fun DIY project, frame large prints of your favorite photographs, or find posters or art representing you and your style.
Sofa Or Accent Chairs
To make a statement in your space, adding a pop of color is a big way! A colorful sofa or accent chair can be a fun and effective way to present your design style. Eclectic, bohemian, and maximalist styles utilize large format design elements to elevate the room.
Small Decor Items
Coffee table books, candles, and pottery are just a few examples of small home decor items that can add a pop of color to a room. Staging a bookcase with colorful books or your coffee table with layered pieces makes the room look more thoughtfully designed and adds color and texture to the room.