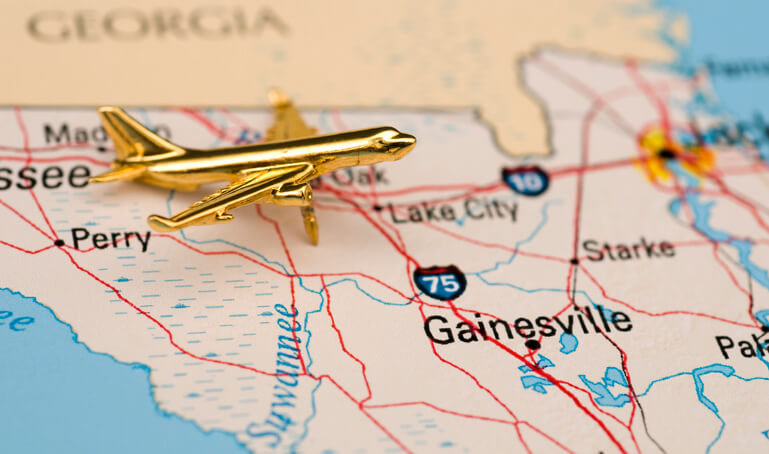 Posted on Feb 5th, 2019 in How To's, Gainesville
Whether enrolling at the University of Florida or relocating for work, the population of Gainesville grows every year. But a journey to Gainesville can happen in any number of ways, and the travel method that works for someone else isn't necessarily what's right for your situation. This travel guide from Contemporary Management Concepts, LLLP, helps you to choose your best method for traveling to Gainesville.
Air Travel
Gainesville Regional Airport
The Gainesville Regional Airport (airport code "GNV") hosts domestic flights from Delta and American Airlines. The majority of direct flights to GNV depart from major cities in Florida and nearby states. As a result, most travelers flying out of regions outside the southeastern U.S. need connecting flights, for which tickets are usually more expensive than direct flights. On the plus side, the airport is only three miles northeast of the city, which means passengers can travel by rental car, taxi, or Uber to their Gainesville apartments or homes in only a matter of minutes.
Other Florida Airports
If you prefer a direct flight or are flying internationally, you'll want to touch-down in a larger city and grab a rental car or bus ticket to Gainesville.
Jacksonville International Airport, Orlando International Airport, and Tampa International Airport are all within a few hours' drive of Gainesville. Each of these cities has its own, rich culture, so if you have flexible travel itineraries, plan to spend the day or a few days exploring the region.
When you're ready to head to home of the Gators, Greyhound and RedCoach are popular options, especially if you don't want to rent a car.
Road Trip
Drive Your Vehicle
Gainesville sits just east of Interstate 75 (I-75) in the center of northern Florida. A major national thoroughfare, I-75 spans north-to-south across the U.S., and it's intersected by almost every major east-to-west interstate. Because of the interconnectivity of these interstates, drivers can leave from virtually anywhere in the country and arrive in Gainesville having driven on interstates alone.
Since cars on the interstates travel at higher and more consistent speeds, drivers benefit from good fuel economy and efficient travel times. There's also the convenience of having easy access to rest stops, restaurants, and hotels at interstate exits. But driving for long hours at a time can be grueling for individual drivers, which is why families and groups of students who can trade-off driving responsibilities have the advantage.
Moving Truck With Car In-Tow
People who are moving into one- or two-room apartments or townhomes for rent in Gainesville, FL, may be able to fit their belongings in their cars. But those who are transporting entire households worth of furniture usually find it's necessary to rent moving trucks or hire professional moving services. While do-it-yourself movers, on the other hand, should look into renting U-Haul trucks and have their cars in-tow.
Find Homes & Apartments For Rent
Whether you decide to look for housing before or after arriving in Gainesville, Contemporary Management Concepts, LLLP can help you find the perfect place to live. From student housing near UF to family homes near K-12 schools, we manage rental properties suitable for all residents. If you're traveling from outside the city, we'll also work with you to ensure your home or apartment is ready for move-in when you arrive. Also, our management team is familiar with Gainesville's neighborhoods and can recommend areas to live based on needs for work, school, and other factors. To explore rental options available in Gainesville, contact Contemporary Management Concepts, LLLP today!