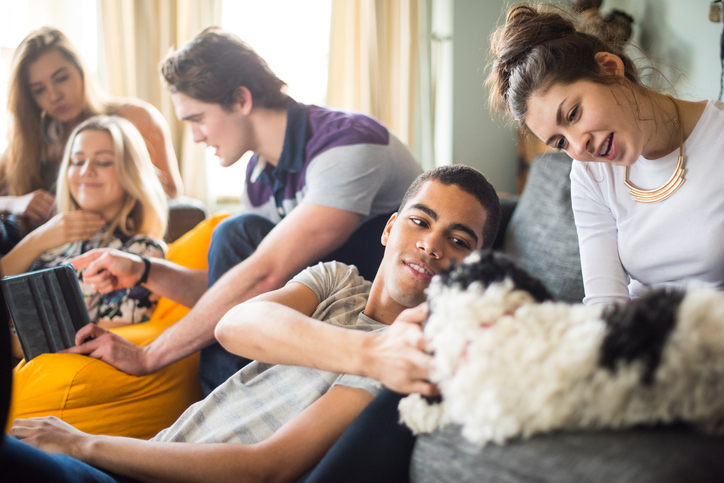 Posted on May 25th, 2018 in Your Apartment, Gainesville Apartments, College Students
Students can be passionate pet owners, but in off-campus college apartments, there are pros and cons to living with pets. So, before searching for pet-friendly apartments, people should evaluate whether having pets makes sense during this stage of their lives. To learn whether a college pet is compatible with your current lifestyle, review the implications of sharing an apartment with a fluffy companion.
Benefits of Pets in Gainesville
Gainesville apartments are desirable for students because of the feeling of independence that accompanies off-campus responsibilities such as paying rent, setting up utilities, and, in many people's situations, looking after pets. Some students move to Gainesville already owning pets, while others adopt locally from Alachua County Humane Society, Gainesville Pet Rescue, or another shelter. Nonetheless, all students with pets can reap the same benefits.
Better Quality of Life
Whether it's health benefits from the increased physical activity of walking a dog, or the calming companionship of a cat sitting above one's shoulder on the couch during a study session, pets contribute to a higher quality of life for some people. Gainesville student housing is often the site of long hours of school-related work, and the presence of a pet in the apartment can balance out daily stress with lighthearted enjoyment.
Meeting New People
Pets are facilitators of social interactions between their owners and other people. On a sunny day, the sidewalks adjacent to off-campus apartments near UF are occupied by residents walking their dogs. Almost without fail, when two dogs cross paths, an interaction of some kind ensues. That moment is an opportunity for the owners to meet or converse as well. In the course of an afternoon walk, your pet can introduce you, albeit unwittingly, to many potential friends.
Setbacks of College Pets
Other than the inherent duties of feeding and cleaning up after pets, there aren't many identifiable disadvantages to pet ownership itself. However, some setbacks can arise when bringing a pet to live in student apartments in Gainesville.
Higher Expenses
Moving a pet into an apartment almost always requires paying fees. Common pet policies involve an initial deposit of $250 and monthly pet rent of $25. Moreover, pet food and accessories, such as bedding or chew toys, are additional expenses. For a renter on a student budget, the financial burden of owning a pet may be too high to bear.
Limited Housing Options
Not all student apartments are pet-friendly, so by owning a pet, you automatically reduce the number of housing options available to you. Furthermore, many apartment communities that do allow pets have restrictions regarding the kinds of animals permitted. Dogs and cats are the animals most commonly accepted by landlords, although breed and size restrictions usually exist for dogs. Some apartments only allow cats.
Student Apartments for Rent in Gainesville, FL
Contemporary Management Concepts, LLLP manages pet-friendly student apartments for rent Gainesville newcomers and longtime residents alike rely on. Our student housing near UF is easily reviewable on online, where prospective residents can filter search results based on pet policies, community amenities, rent prices, and other criteria. We also oversee other properties, such as townhouses, lofts, and homes, located throughout Gainesville, FL. Our team of rental experts is available to answer your questions and provide additional services. Contact us for more information!