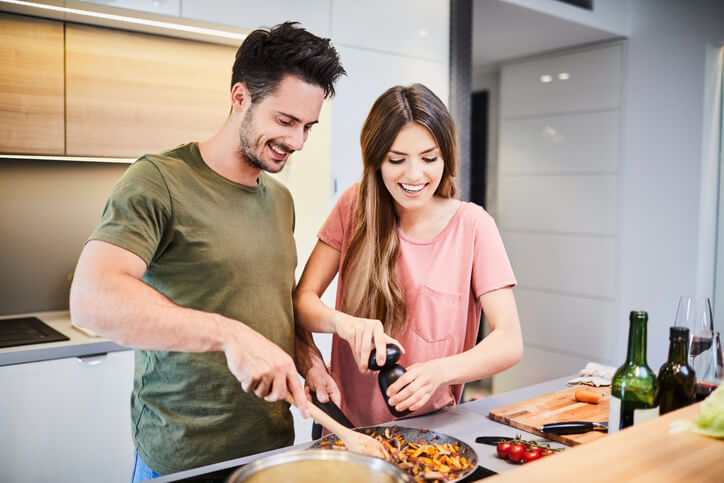 Posted on Oct 17th, 2019 in Gainesville Apartments, Gainesville
Apartments Near UF For Married Couples
When moving to Gainesville, most students have specific requirements for their living arrangements. For some, a quiet, laid-back environment is preferred. For others, a student-centric and social community is more ideal. For couples who are married, finding features that are favorable for both spouses can be a challenge. Finding the ideal off campus apartments in Gainesville can be difficult, especially if one partner works while the other is attending classes. That's why at our property management company in North Central Florida, we've hand selected properties with the most sought after features and styles for married University of Florida students.
Spacious Living Environments
Enjoy a private balcony, walk-in closets, and a full kitchen complete with ample storage space and an attached dining room at our family apartments in Gainesville, FL. Living in cramped student apartments or having to share space in the dorms is unsatisfactory for most married couples, and other apartments throughout the area may provide adequate space but at a hefty cost. When selecting housing with Contemporary Management Concepts, LLLP, married couples can rest easy knowing they'll have plenty of space to spread out and make their new home their own without breaking the bank.
Remarkable Community Amenities
College living doesn't have to mean just having the necessities. For married couples looking for more than just the basics, our Gainesville apartments include the latest on-site amenities, perfect for whatever mood you and your partner are in. Take a dip in the pool, burn some calories in a 24-hour fitness center, or practice your free throws on the community's basketball courts. Whether you like taking your dog on long walks through Gainesville's nature trails, or prefer to spend the day shopping and sampling the local cuisine, there's something for everyone — just minutes from your front door.
Luxurious Designs
Live lavishly in contemporary housing designed with university students in mind. It's easy to see why our UF off campus apartments make for the perfect home for married students. Apartments come fully stocked with stainless-steel appliances, such as a dishwasher and microwave, as well as other modern furnishings, such as hardwood floors and vaulted ceilings, to make your living environment one of a kind. With luxury amenities, coming home after a long day at work or school has never been nicer.
Family Apartments In Gainesville, FL
Avoid the confined conditions that other apartments bring, and enjoy a professional and family-oriented lifestyle found with Contemporary Management Concepts, LLLP. Our property management company can help you and your significant other find your perfect student housing in Gainesville, FL based on your preferences and budget. Contact us today to find your next apartment near UF.