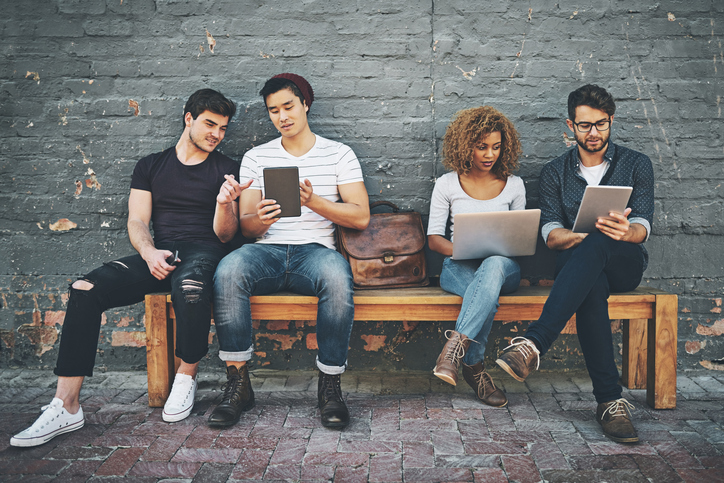 Posted on Apr 16th, 2018 in How To's, Gainesville Apartments, College Students
Sharing your apartment with a roommate can have advantages. Tenants who split the rent in two-bedroom apartments in Gainesville, for example, usually save money compared to people in one-bedroom or even studio apartments. People who live together can also share duties such as cleaning chores or grocery shopping. But for this to work out, roommates should have compatible lifestyles or at least a commitment to cooperate. Finding the ideal companion can be challenging, but it's all about knowing what qualities to look for (and look out for) in a potential roommate.
What to Look For in a Roommate in Gainesville
Just as every person is unique, so is every roommate pairing. Some are inseparable best friends, while others are content to leave each other alone. Regardless of the nature of their personal interactions, there are two qualities roommates should embody in order to become a successful pairing.
Reliable
People who are urgently trying to find student apartments for rent in Gainesville tend to select the first available roommates, but they should at least attempt to ensure the candidates are reliable. In an apartment, a tenant demonstrates reliability by paying rent, utilities, and other shared bills on time every month, as well as by living in the apartment until the rental term expires and not moving out early or unexpectedly. Particularly for roommates on student budgets, one of them moving out early or paying rent too late can financially burden the other roommate, who must pay the difference.
Compatible
Gainesville apartments provide students with an opportunity to live with people of their own choosing, as opposed to living in the dorms on-campus, where roommates are often randomly assigned. But in order to have the best experience while sharing an apartment, you must choose a person with whom you are compatible. This means having similar habits and expectations, such as the standards of cleanliness or noise levels in an apartment. Friends can make convenient roommates when they already know they have similar lifestyles. Otherwise, online matching services allow you to specify your preferences and target a pool of potentially suitable candidates.
Roommate Interview Questions
Whether you're considering a friend of a friend or a stranger who responded to your "roommate wanted" ad online, the best method for determining whether a candidate could be a good match for you is through an interview. As opposed to a job interview or police interrogation, your meeting with a prospective roommate should be informal and polite. All the questions should aim to reveal how reliable and compatible with you the person is.
Renting Experience
A person's history as a renter can provide insight into whether the person is a reliable roommate. Someone who has lived in the same apartment for a couple of years is probably responsible enough to have been offered lease renewal, whereas someone who has moved through several off-campus apartments near UF in a matter of months could be too capricious. Regarding students who have never lived in an apartment before, the question of reliability can come down to whether the they are committed to living in Gainesville and have a consistent income for paying rent. Someone who has a wavering commitment to school and no steady income should raise red flags.
Lifestyle
In order to determine compatibility while interviewing a potential roommate, ask questions that allow that person to express personal lifestyle preferences. While you're not looking for an exact replica of yourself, it's important to determine whether the things that matter the most to you about an apartment are also part of — or at least not in conflict with — your roommate's preferences. For example, if you like the apartment to be clean and quiet, you don't have to live with a recluse but neither with someone who throws parties every other week.
Apartments for Rent in Gainesville, FL
Contemporary Management Concepts, LLLP is one of Gainesville's leading providers of student housing and apartments for rent. Our website makes finding your ideal apartment easy by browsing available rental properties and refining your search based on the number of bedrooms, types of amenities, and range of rent prices that suit your needs. We have rental options ideal for single renters, including one-bedroom apartments and affordable studios, as well as apartments, townhouses, and rental homes with two or more bedrooms to accommodate roommates. Contact us to learn more about our services at Contemporary Management Concepts, LLLP!