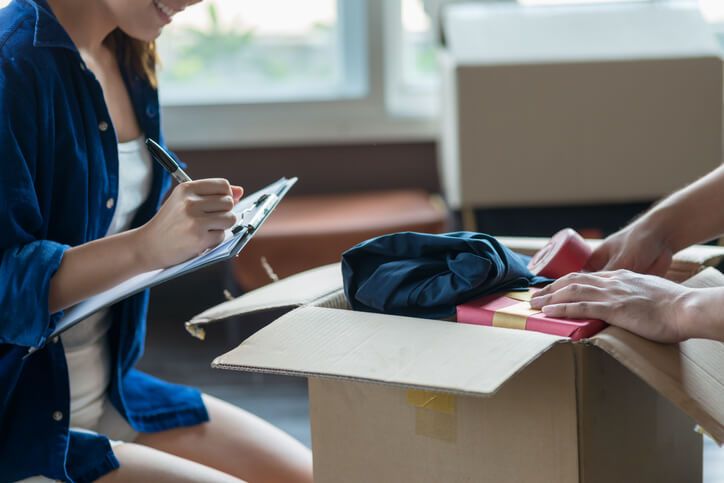 Posted on Apr 22nd, 2019 in How To's, Gainesville Apartments, College Students
Why You Need A Moving Checklist
A moving checklist is a necessity for everyone. Many college students are juggling classes and work schedules while planning a move which can become overwhelming. To start, it's an all-in-one place to organize your move while making sure primary and secondary belongings are accounted for. Plus, moving checklists are a great fail-safe for avoiding multiple trips to a store to buy things you forgot or didn't realize you wanted to bring.
Room-By-Room Checklist For Your Apartment
Each room in the apartments for rent in Gainesville, FL, serve a different purpose and need different items as a result. Here's a quick checklist to help you start planning and packing. But, it's easy to create your own by looking at the room-by-room items you already have or would like to use.
Kitchen
Pots and pans (skillet, saute pan & large pot)
Bowls, cups, and plates
Can opener and cutting board
Silverware
Toaster or toaster oven
Bedroom
Bedding, including sheets and blankets
Throw rug and bedroom décor
Alarm clock
Trash can
Bathroom
Bath towels, hand towels. and washcloths
Plunger
Shower liner
Toilet brush & bowl cleaner
Trash can
Living Area
Chairs and stools, if space allows
Coffee table and/or side tables
Couch or sofa
TV and TV stand
Don't Forget These College Apartment Must-Haves
It's exciting to think about moving into any of the apartments or townhomes for rent in Gainesville, FL, as a student. And even if you're following our packing checklist, here are five must-haves that are often overlooked while moving.
Desk Or Side Table Lamp
Sometimes, the light cast by overhead lights begins to look harsh rather than a homey and welcoming glow. A desk or side table lamp is a small but functional alternative to overhead lighting in both bedrooms and living areas, which can cut down on glare while using electronics.
Window Curtains
Apartment windows usually have blinds or coverings but few have curtains. If you prefer to sleep in a truly dark bedroom, remember to pack window curtains or blackout curtains. Curtains are also a good way to reduce incoming solar heat to lower monthly cooling costs.
Kleenex & Toilet Paper
Kleenex and toilet paper seem like items nobody could forget but they're forgotten in many, many moves. An easy way to avoid this common faux pas is to put several boxes and rolls in your first-night box (keep reading for what to pack in your first-night box).
Shower Curtain
Many people think a shower liner will suffice but quickly realize they'd appreciate the extra layer of privacy a shower curtain provides. Plus, a shower curtain is an easy way to show off your personality while decorating another part of the apartment.
Mattress Pad
The current mattress might feel alright but a mattress pad can take it to the next level. Mattress pads come in a variety of materials and styles that can provide body contouring, temperature control, and more. Once you find a mattress pad that works for your needs, you can look forward to many restful nights.
Tips To Have A Successful Move
A successful move into Santa Fe College and UF student apartments is possible when you use these tips from Contemporary Management Concepts, LLLP!
Label each box as items are packed. Not only will you have an idea of what has been packed, but it will make unpacking and organizing go more smoothly.
Create a first-night box or laundry basket. Include basic toiletries such as a toothbrush and toothpaste, shampoo, towel, and easy-to-prepare foods or a list of nearby takeout restaurants. Remember to take this box or basket with you in your vehicle and carry it inside right away.
Use rolling luggage for books and other heavy items. Not only is it fewer boxes to load and unload, but moving these items will be easier for everyone!
Buy frozen and refrigerated foods after you've unloaded the last box. There's less of a chance food will thaw out and potentially cause health issues if cooked and consumed.
If friends and/or parents are helping you move and they want to help unpack, more hands working together will make everything go quickly.
UF Apartments Near Campus
Contemporary Management Concepts, LLLP is a full-service provider of student housing Gainesville students turn to throughout the year. With a wide variety of properties in Gainesville, FL, we know you'll be able to check off the most important line on your checklist — your perfect college apartment! Contact us today.