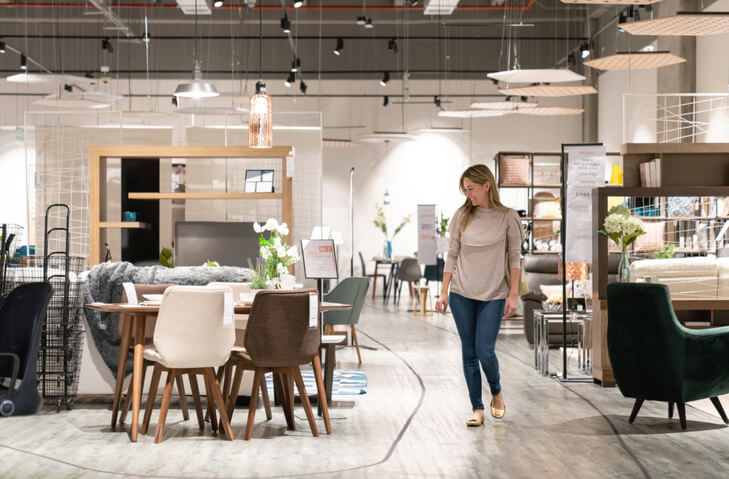 Posted on Sep 16th, 2020 in Your Apartment, How To's, Gainesville Apartments, College Students
Decorating a new apartment can be one of the most exciting parts of moving. It can also be one of the more expensive parts. Buying secondhand furniture and accent pieces can help save money, but it's important to know what used items are worth your time and what items should be purchased brand new. To help make it easier for you, Contemporary Management Concepts, LLLP has created this guide to take the guesswork out of it.
To help save you time on furniture shopping, contact us today to inquire about our furnished apartments in Gainesville.
Furniture To Buy Used
Lighting Fixtures
Lamps are both practical and aesthetically pleasing. Thankfully, quality pieces can usually be scored for low prices from garage sales, flea markets, or secondhand stores. Pay attention to the integrity of the lamp's body, check that the switches still work, and that there are no major issues with the connection area for the light bulb. Don't worry if a fabric or plastic lampshade is broken or dented because these are easy to replace with something that may be more your style.
Solid Wood Furniture
While anything made from particleboard should be avoided at all costs, solid wood furniture can be a great secondhand find. Even if the style is a little dated, a fresh coat of paint or lacquer and changing out knobs or handles for new hardware is a relatively inexpensive and easy do-it-yourself (DIY) task to get a long-lasting, beautiful piece. Just ensure that the structure is sound and that it doesn't wobble or tilt or have any signs of pest damage.
Small Appliances
Used appliances are just a fraction of the cost of a brand new ones and tend to work just as well. When it comes to smaller appliances, like toasters, toaster ovens, and microwaves, be sure to consider used options before wasting money on a brand-new model. Just check the product for obvious wear and tear and ask to plug it in to ensure it works before purchasing. However, an exception to this would be blenders. Because their blades dull over time, it's worth the extra money to buy new.
Art & Decor
Sprucing up your apartment on a budget is easy when you take advantage of all the previously owned unique art pieces and knickknacks. Even pieces that may not be quite your taste can add a unique flair to your apartment. You can also get good prices on glass picture frames and mirrors, which are usually marked up much higher when they're brand new.
Furniture To Buy New
Mattresses
Mattresses have a limited lifespan before they become prone to sagging and dips where another person has slept. Not only do you not know where a used mattress came from, you also don't know what it's been through. From unidentified stains to potential bed bug infestations, it's best to skip over mattresses entirely.
Bedding
For the same reason as mattresses, it's best to forgo used bedding such as blankets, pillowcases, and sheets. Instead of playing "guess what that stain is," purchase quality bedding that will last you for years to come without the ick factor.
Upholstered Furniture
While upholstered furniture can be reupholstered and make for a fun DIY project, the stuffing underneath can still be infested with bugs that you don't want to have anywhere near your house.
Vacuums
Vacuums also have a limited lifespan and it's worth the money to splurge on a newer model that will clean better and faster than older, outdated models. Also, if you buy a used vacuum cleaner, you don't know what it was used to clean before. Skip cleaning used filters and tubing — your allergies will thank you.
Certain Kitchen Tools
Pots, pans, cookie sheets, utensils, and cutting boards are all prone to scrapes and scratches over their lifetime. These marks can become a haven for germs and bacteria, so it's best to just buy these new. However, if you come across a cast iron skillet that's in good condition or a quality chef knife that you can sharpen, it may be worth the bargain.
---
Not a fan of buying new furniture or spending your free time searching for the perfect piece of used furniture? Explore our Gainesville apartments and find your new place to call home!