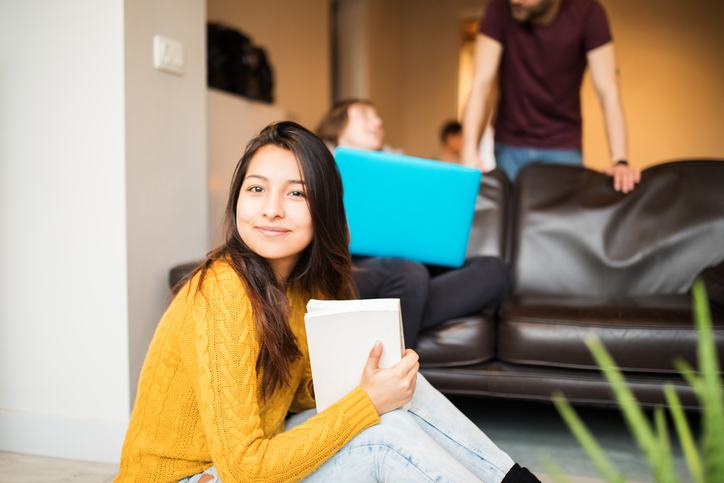 Posted on Apr 9th, 2018 in Gainesville Apartments, College Students
Students who bypass living on campus or switch from that to living in off-campus apartments near UF experience life at home and in the city of Gainesville differently. The advantages associated with living off campus can have immediate and lasting results. To determine whether you are ready to rent a student apartment, consider the benefits you would have while living off campus.
Freedom to Experience Gainesville
For residents of dorms, campus can become overly familiar. On the flip side, by moving to off-campus apartments in Gainesville, students begin venturing into into the city and experiencing more of what it has to offer. Instead of eating every meal in a dining hall, for example, you can sample multiple types of cuisine throughout the week at different nearby restaurants or shop for groceries and make your own low-cost meals in the kitchen of your apartment. Furthermore, the amenities and common areas of student apartment complexes provide an environment to unwind from school, meet fellow residents and develop long-lasting friendships.
Have More Responsibilities
Moving to an apartment comes with responsibilities that students living on campus may not have, such as remembering to pay rent and utility bills every month. While this may seem daunting at first, it allows many students to feel more independent and learn to manage their finances. If you choose to live in a studio or one-bedroom apartment, you'll be the only one accountable for household chores and other errands. On the other hand, having roommates teaches you to leave cooperatively and share expenses. Living independently also means not having to submit to the rules, curfews and room inspections of most on-campus residence halls.
Still Enjoy On-Campus Culture
Living in Gainesville apartments is not a departure from the student lifestyle; it's an extension of it. Moving to student housing near the university can add an exciting dimension to your college experience while keeping you close enough to campus to still attend and enjoy UF athletic, cultural and academic events regularly. Your commute could be less than a few minutes' drive by car or even walkable. This way, going to class every day or staying up late at the library on occasion remains as convenient for you in an off-campus apartment as it is for a student in a dorm.
Off-Campus Apartments Near UF
Contemporary Management Concepts, LLLP is a leading provider of student apartments for rent Gainesville freshmen and upperclassmen alike enjoy living in. We have helped a significant number of students find ideal housing that meets their needs and budgets. Aside from multiple student apartment communities, our property management company also oversees other rental properties in Gainesville, including condos, houses and luxury apartments. All our properties are easily searchable on our website, where you can look at apartments based on the number of bedrooms, rent price, amenities, and other features. Contact us to learn more about Contemporary Management Concepts, LLLP!