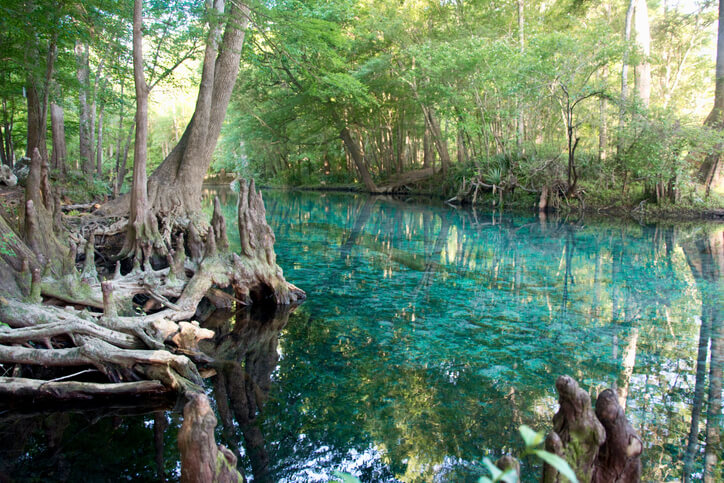 Posted on Apr 27th, 2020 in Weekend
Need a break from classes and studying? While the city of Gainesville is home to many festivals, parks, breweries, and museums, it's also in the perfect spot for taking day trips around North Central Florida. Hit up these spots from your conveniently-located Gainesville apartments to learn more about Florida culture and history, while taking in the sights of the beautiful vistas.
Paynes Prairie Preserve State Park
Holding the title of Florida's first state preserve, Paynes Prairie Preserve State Park is a natural wonder located just minutes south of Gainesville. Start at the visitor's center, where exhibits and audio-visual programs will explain the area's natural and cultural history. Don't forget to bring a pair of binoculars to scope out the area from the 50-foot observation tower.
Take a walk, bike, or horseback ride down one of the eight trails to catch a glimpse of the diverse wildlife. Home to over 20 distinct biological communities, you'll have the opportunity to see wild horses, bison, gators, otters, bobcats, and over 270 species of birds, including bald eagles and sandhill cranes. Visitors can also enjoy fishing, boating, or canoeing on the 300-acre lake, Lake Wauberg.
Crystal River
Being a little under an hour and a half away from Gainesville, Crystal River is well worth the drive. Visitors can find charming storefronts, art galleries, museums, and historical sites, and all of Crystal River's natural wonders. Visit Withlacoochee State Forest and enjoy scenic vistas as the perfect backdrop to a day of hiking, picnicking, bicycling, or nature watching.
Be sure not to miss out on the water adventures. The waters of Crystal River are home to the only legal "swim-with" manatee program in the entire country, giving you up close and personal access to these gentle creatures. You can also enjoy kayaking, paddle boarding, scuba diving, and snorkeling. In the summer, take to the waters to collect Bay Scallops. Bring your catch to a local restaurant and enjoy a fine meal!
Jacksonville Zoo and Gardens
With a little less than an hour and a half drive to the northeast, you can explore all the things that Jacksonville offers, which is definitely more than a single day trip. But don't miss the Jacksonville Zoo and Gardens, the only walking safari in Northeast Florida.
Home to over 2,000 animals, visitors can see a range of land and aquatic species, including tigers, giraffes, cheetahs, manatees, alligators, and more. Integrated among the animal exhibits are five different gardens that are home to over 1,000 plants and showcase diverse ecosystems from all over the world. Learn about the animals by talking to the keepers, experience the animals firsthand with animal encounters, go on a garden tour, or give your feet a break by enjoying one of the rides.
St. Augustine
Time travel is possible with just an hour and a half drive southeast to St. Augustine, the oldest continuously settled city in the United States. Take a walk down the same cobblestone streets that have been used for hundreds of years while learning about centuries of local and Florida history.
Take a tour of the Castillo de San Marcos, where actors demonstrate what it was like to man the fortress. Enjoy several of the city's museums, including Ripley's Believe It or Not, or take a stroll down historic St. George Street and enjoy some modern shopping from local vendors. If that's not enough, St. Augustine is home to many annual festivals and one of Florida's most impressive holiday light displays which runs from November through February.
Island Grove Wine Company
Located about 40 minutes southeast of Gainesville, Island Grove Wine Company specializes in crafting fresh blueberry wines with blueberries harvested from their own plantations. While blueberry wine may be their claim to fame, they also produce several other fruit wine blends.
Travel down old Florida backroads before arriving at the 10,000 square foot facility where the wine is made and bottled. Take a tour and learn about the wine-making process before sampling a bit of the wine yourself. Just minutes away is the Tasting House, where you can select from a wide array of locally made wines and craft beers. They even host escape room nights, because nothing makes solving a puzzle better than a little bit of wine!
Dudley Farm Historic State Park
If you want a slice of Florida history, head out 30 minutes west to Dudley Farm Historic State Park. Established before the Civil War, the authentic working farm boasts 18 original buildings built between the 1880s and 1930s, including the restored family farmhouse, general store, post office, and cane syrup complex.
Experience what farm life was like in Florida more than a century ago as staff and volunteers perform chores in era-specific dress, including tending to crops and livestock. Afterward, take a walk on the trails where you can rest with a picnic and hope to catch a sight of deer, wild turkeys, gopher tortoises, and bluebirds. You can even purchase heritage plants from the original Dudley gardens.