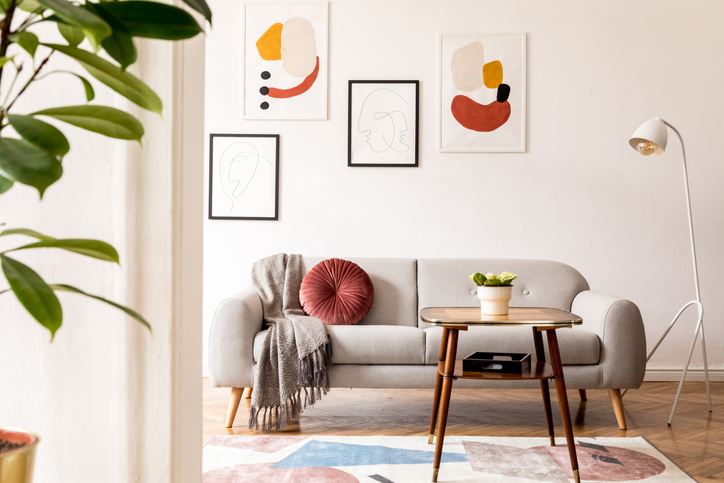 Posted on Oct 18th, 2021 in Your Apartment
Decorating a new apartment or even redecorating your current one is an exciting adventure and is a good way for your personality to be shown around your Lakeland apartment. But, if you are on a budget, finding apartment decor may seem daunting, as things can quickly add up and exceed your budget before you know it. Our property management company, Contemporary Management Concepts, LLLP, is here to teach you how you can decorate your apartment in Lakeland, FL, while sticking to your budget!
Contact us today to schedule a tour of apartments in Lakeland!
Floating Shelves
Floating shelves are a great way to add storage without taking up floor space while stepping up your apartment decorating game! Floating shelves are a great way to display photos, mementos, books, coffee mugs, succulents, and so much more! If you don't want to buy floating shelves, it is possible to build your own, and you can even finish them to match your trim or furniture!
Chic Rugs
A chic rug is a piece of decor that can instantly change the entire look of your space, but with so many options to choose from, it could be a tough decision to make. A nice rug can be a centerpiece of any room and anchor the theme of your room! Rugs can be easily found for reasonable prices, adding a pop of color to liven up any room.
Tapestries
Using tapestries as decorations has been a popular choice to give apartments a more refined look and can be used as a statement piece. You can also use tapestries as curtains to filter natural daylight while adding a pop of color to your room. Hanging a colorful tapestry is also an excellent alternative to painting your apartment walls. Plus, they are easier to change so that you can have different designs throughout the year.
Painted Furniture
If you have old furniture that no longer fits your style but is still in good quality, one apartment decor hack is to paint it a fun new color. The best part — you won't have to purchase any new furniture to meet your style. You can paint everything from your bed frame to your alarm clock to brighten up your space. This is also a good way to make inexpensive furniture look more sophisticated and luxurious.
Mirrors
Mirrors are a great way to decorate small spaces by using wall space. They have a versatile design feature that can add glamor and interest while maximizing light and making your space feel bigger than it is. If your apartment has oddly shaped walls, you can enhance and soften the space with a round mirror.
Plants
Having indoor plants that require little maintenance can improve your self-esteem and your decorating skills. You can even display these on your new floating shelves or your freshly-painted nightstand. Bringing in a few hardy plants is not only inexpensive, but they are also always in style!