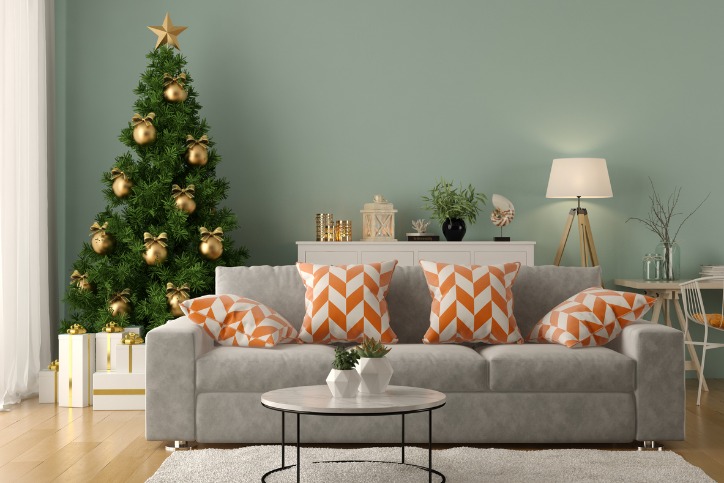 Posted on Dec 13th, 2021 in Your Apartment
The Christmas season is upon us! One aspect of Christmas that truly makes this holiday magical is decorations. Not only are they an essential part of the holiday season, but Christmas decorations also offer the perfect way to spice up an apartment and create a warm and inviting aesthetic. Now is the time to figure out your design scheme and to decide how you will decorate for the holidays. To help you get inspired, Contemporary Management Concepts, LLLP, shares the following Christmas decor ideas for adding some holiday cheer to your apartment.
On the hunt for a new apartment in Florida? Contact us today to schedule a tour of our apartments for rent!
Festive Wreaths
When it comes to Christmas decorations, wreaths are a staple! They exist in an infinite range of sizes, colors, materials, features, and shapes, and if you can't find a premade wreath that is to your taste, then you can make your own. Wreaths are wonderful because they can be hung up practically anywhere in your apartment, and they don't take up much space. You can even have multiple wreaths throughout the apartment, such as one on your apartment's front door and a couple hanging throughout the living room and bedroom. You can even hang a wreath on one of your doors inside using a wreath hanger or hook, which doesn't require any hammering or nails. Whether you decide to buy or make a wreath, your wreath is sure to spread some cheer and enjoyment to all those who come across it.
Holiday Garland
Garland feels like an often overlooked Christmas decor item, but these lush strands of holiday wonder can make a beautiful addition to any living space (especially apartments). One of the most convenient aspects of decorating for the holidays using garland is that garland can be used to decorate a wide range of different surfaces, including atop kitchen cabinets, over a mantle, strung up on the wall, and even on the dining table. Another place you can use garland is over entryways in your apartment. The garland will look beautiful, and it will give you that feeling of Christmas spirit each time you walk through!
Christmas Tree
Of course, the staple item in most Christmas decorations is the Christmas tree. But not everyone has enough space in their apartments for a huge tree. Instead of trying to cram a tall tree into your living space, why not pick a tree that best accentuates the space you have? Christmas trees exist in all shapes and sizes and offer multiple different features. Some come with lights preinstalled, while natural Christmas trees give off a wonderful pine scent that instantly brings out the feeling of the holidays. Small, table-top trees make an excellent addition to any entryway or table. In terms of tree decorations, the sky's the limit! You can choose ornaments that complement your year-round apartment decor, or you can go all out with red-and-green or gold-and-silver ornaments and other tree baubles.
Christmas Lights
Christmas light decorations are an essential part of holiday decor that can transform your space into a cozy holiday wonderland. The best part is that Christmas lights aren't only for your tree; you can hang them up practically anywhere! While most house-dwellers adorn the exterior of their homes with Christmas lights, it isn't quite the same for those living in apartments. Instead, try illuminating the inside of your place with a dazzling Christmas-light display. We recommend choosing LED lights, which help conserve energy, don't pose a fire risk, and exist in every shade and color you can think of! You can add your light strands to any type of pole or railing, you can use removable adhesive wall hooks to add string lights to your walls, or you can use clothespins to hang up holiday cards and photos on your string lights and show them off wherever you hang up your lights. Create a light curtain by fastening strands of lights on some wire and hanging the wire across a wall or window to create an illuminated waterfall backdrop.
Snowflakes
Remember cutting snowflakes out of construction paper in grade school? These cheery cut-outs can help dazzle up your apartment without breaking the bank! You can find plenty of templates online for creating both large and small snowflakes, and you can hang them anywhere you like, from stringing them up from the ceiling or putting them up in front of your windows to mimic the aesthetic of softly falling drops of snow. You can also put them up on your walls, along with any other wall decorations, and arrange them in interesting patterns. For those without the time to make this Christmas home decor piece, you can just as easily buy some decorative snowflakes at your local craft store. This Christmas decoration can really brighten your apartment and add some glamour to your holiday setup!