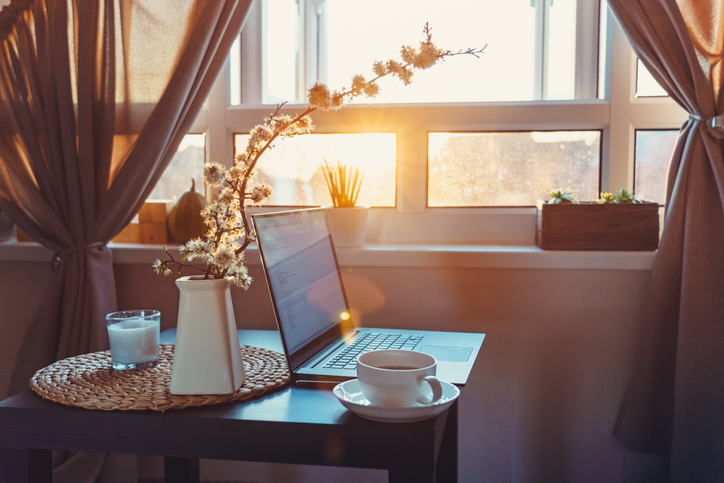 Posted on Nov 8th, 2021 in Your Apartment
Fall is one of the coziest times of the year, and when you work from home, it can be tempting to curl up with your favorite hot drink and get lost in a blanket and book. As the weather begins to cool and the color of the leaves begins to change, a few internal scenery changes in your Gainesville apartment's home office can help your home feel cozier and keep you in the right mindset for completing work or school assignments. To help give you some ideas, Contemporary Management Concepts, LLLP, has outlined ways to cozy up your home office decor this fall!
Contact us today to schedule a tour of our apartments in Gainesville!
Bring The Outside In
This fall, one easy way to spruce up your home office decor is to bring in some outdoor plant life to give your office natural elements that represent the season. One neat trick is to gather up some of those gorgeous red and brown fallen leaves that fall from red maple and sweetgum trees to create some pressed leaf art that you can hang in your office. Paired with simple frames and backgrounds, these fall decorations can create a nice contrast in the office space.
Break Out The Blanket
As the temperature in your apartment in Gainesville starts dropping, there is nothing better than working under a blanket with a cup of coffee or hot chocolate. To help you get into the fall spirit, we recommend going with blankets with a plaid pattern or made of materials that capture the body's natural heat, such as chunky cable knit. Working under a warm blanket also has the benefit of helping cut down on heating costs — just be sure you don't fall asleep at your desk!
Use Fall Scents
Autumn isn't autumn without the smell of pumpkin spice, cinnamon, or apples. To really get into that fall feel, you can invest in some pumpkin-spiced candles, essential oils, or diffuser sticks. These scents can help you stay motivated and relaxed in your home office while also putting you in the fall mood.
Bring In Some Light
Bringing in some natural light can make your home office a more pleasant area to be in, especially if you're spending most of the day working inside. A mason jar full of fabric leaves, matte finish mod podge, and a tea light is a fun arts and crafts project to take on, requires minimal effort to complete, and adds a splash of color to your home office. You can even have your kids make their own for a fun family-crafts project!