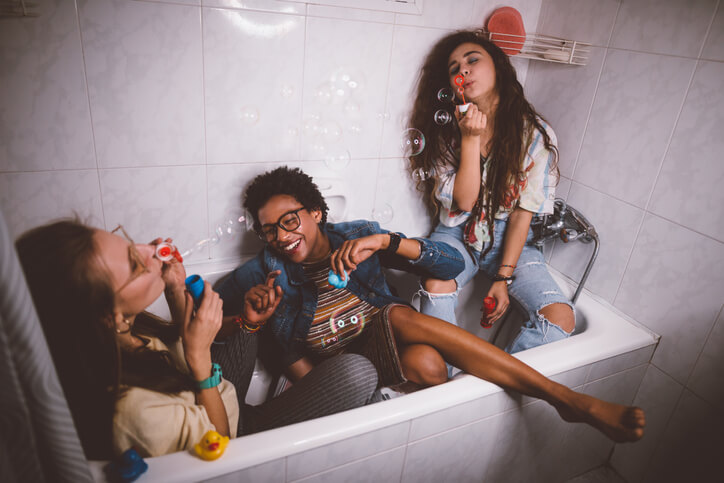 Posted on Nov 8th, 2019 in College Students
Sharing a living space is like sharing a workplace: When on the clock, you are expected to abide by a certain professional etiquette to maintain peace and order among all workers. Similarly, roommates should follow general guidelines for respect and courtesy if they are to live together harmoniously. In the event you skipped that one bedroom apartment, learn how to get along well with your roommates with these tips from property management company Contemporary Management Concepts, LLLP.
Communication Is Key!
Perhaps you have heard this before but it is worth repeating: Communication must be present if there is any hope of a healthy relationship between roommates. The amount of communication is not as important as the quality. Take the first step and start your roommate-ship on a good note. Introduce yourself, give them a little snapshot of your background, look for common interests, and, most importantly, discuss what you expect of each other as a roommate. Doing so as early as possible can help you avoid awkward situations later on. If you have opted for apartments in Gainesville with roommate matching options, you may already have things in common with your roommates. This can make it easier for you to establish a bond, but you should nonetheless try to find out more about them in person.
Cordiality Goes A Long Way
Meeting someone for the first time can be downright awkward, but there are better ways to break the ice. Demonstrating generosity and courtesy early on will show others you are approachable and trustworthy, such as offering to help without being asked, sharing a homemade meal, and leaving enough space in the cupboard for your roommate. If the favor is not returned, don't worry. Lead by example and maintain open communication. Find different places and activities your roommate(s) might be more interested in. A good idea for new roommates is to check out apartment amenities together. If you are lucky, you could discover your next gym buddy for that early morning workout.
Maintain Clean Common Areas
A common point of contention between roommates has to do with the state of common areas. No one wants to wake up to a sink full of dishes or left-over takeout on the dining table. Cleaning after yourself must be made all the more important in common areas. If you are running late and do not have time to clean, let your roommates know why you left a mess and offer to help when your roommate is the one running late. For those who would rather not share a bathroom or other apartment features, make sure you go over all the different floor plans available within your desired area and budget in order to find the best match for you.
Make Time For Roommate Bonding Activities
Whether decorating your new Gainesville apartment for the holidays or binge-watching your favorite show together, there is no better way to get along with your roommates than befriending them and spending time together. No one should be living with a stranger. Put in the time to get to know them and you will quickly realize they are more like you than you had previously thought. A good way to welcome someone into your life is to introduce them to your friends. This will show them you trust them enough to let them in your social circle.